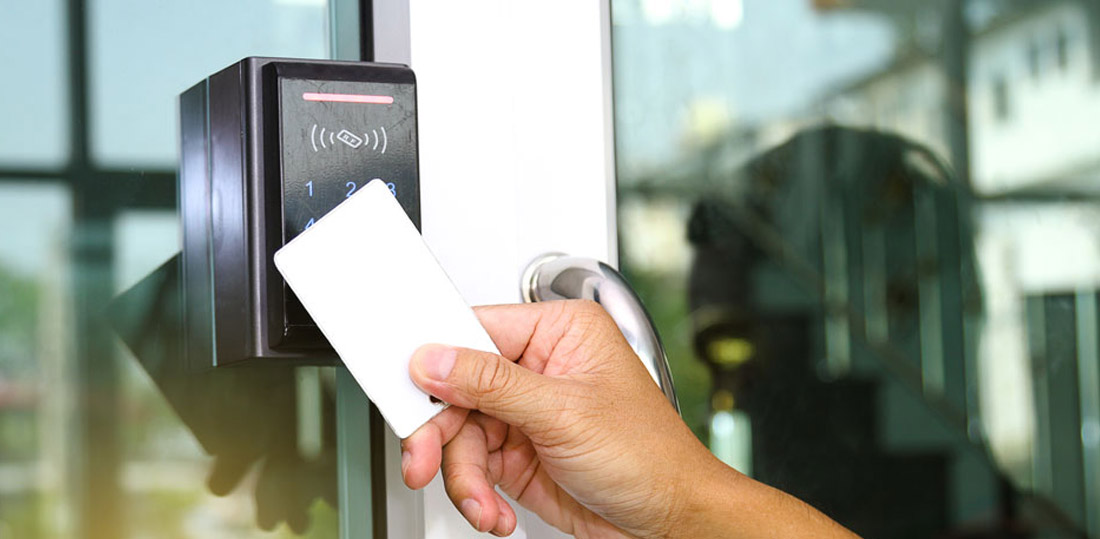 Access Control – Knowing who goes where
All businesses, whether small, medium or large, have assets that need to be protected from theft. There is also the issue of protecting staff and their property. It is common in buildings that are secured by locks and keys for doors to be left unlocked all day. This opens up the possibility of opportunist for theft and malicious damage.
Electronic access control provides the most efficient and convenient way of securing your building and assets. Installing an access control system means that you will never have to change a lock again. Tokens are issued to allow access through the controlled doors, and are easily barred from the system if they are lost, stolen or just not returned by someone who leaves your company. Barred tokens will not allow access through the controlled doors.
In addition to protecting property, an access control system can provide peace of mind for personnel who are able to work in a safe environment. Reports produced in connection with an Access control system can provide details of where personnel and visitors are in any site at any time for fire evacuations. An access control system can even manage employee time & attendance.
Digital Keypads
Card / Mag swipe systems
Proximity systems
Biometric systems
Standalone & PC based
Can be used on gates & car park barriers
Remember that the access control can be networked together with your IP CCTV System and your IP Door Entry System.
Intercom Systems
Nightowl Security does a range of intercom systems. From your standard 1 to voice or video, to a multi apartment system. With today's advancements in technology there is no longer the requirement to run miles of multicore cable. The 2 wire systems, which run everything on just 2 wires including the opening of locks are simple to install and can utilise existing cores in cables.
The new IP range of intercoms means you can just plug into the nearest Lan (Local Area Network) outlet and have it connected to your computer. No need to get up and walk to the handset, it all comes up on your screen. We offer a full service on all types of systems.
Advantages of Access Control
– Control of who is entering your premises; where and when
– Protection of employees, visitors, property and information
– Reduction of timesheet procedures
– Securing of certain sectors of a building
– Integration with HR systems for ease of monitoring and data management
– Various Reader Technologies to suit individual needs
– Assistance with car park management